FEATURED ARTIST


Charles Lloyd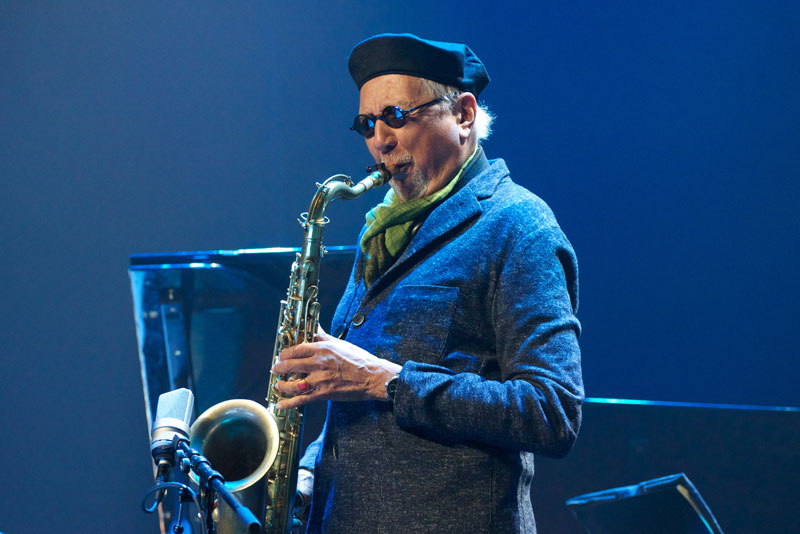 "Mr. Lloyd is the rare jazz artist whose every appearance qualifies as an event… Mr. Lloyd sets the pace, and this performance conveyed much of what you'd need to know about his values as an artist: soulfulness, mindfulness, generosity, balance… His improvisations carried the hallmarks of a language steeped in history: bebop, softened with a slouch; filtered through a personal lens; down-home blues, translated into worldly spirit talk." New York Times
"Charles Lloyd is an international treasure." Carlos Santana
"Follow the career of Charles Lloyd, and you see a map of great jazz across half a century. His shows, full of momentum and intuition, perfectly represent the idea that the best jazz needs to be experienced live." The New York Times
"He's expansive in his musical discourse yet without a wasted note." Wall Street Journal
"Jazz improvisation as complex and far-reaching as the Lloyd quartet had to offer can be a daunting listening experience. … The listener is taken on a journey through gravity-less improvisational space. To the credit of Lloyd and his players, that journey was illuminated by one musical enlightenment after another." Los Angeles Times
"Lloyd is one of the greats, rather like Joan Miro in modern art, he has no peer save himself. Music of total transport and delight." Jazzwise
"We are so blessed to have Lloyd who shows no signs of slowing down – an album in each of the last four years and a year-long touring schedule with The Marvels featuring Lucinda Williams.  Get to a performance if you can. It's an experience you'll long treasure." Glide Magazine
Recent honors:
2018 Downbeat Critic's Poll Best Tenor Saxophonist
2017 San Sebastian Jazz Festival Lifetime Achievement Award
2017 JJA Medium Group, Charles Lloyd & the Marvels
2017 JJA Tenor Saxophonist of the year
2017 Lifetime Achievement Award, Jazz Gallery
2016 Downbeat Critics Poll Group of the Year "Charles Lloyd New Quartet"
2016 Memphis Music Hall of Fame
2016 Bohemia Jazz Award (Czechoslovakia)
2016 JJA Tenor Saxophonist of the year
2016 Lobero Ghostlight Society Artist Luminary Award
2015 Honorary Doctorate Berklee School of Music
2015 NEA Jazz Master Fellow
2014 Monterey Jazz Festival Jazz Legend Award
2014 Laureate Alfa Jazz International Music Award
2013 Montreal International Jazz Festival Miles Davis Award
2012 Brass Note on Beale Street
The critical consensus is that CHARLES LLOYD has never sounded better. The depth of his expression reflects a lifetime of experience. Lloyd has a legendary history in the music world, and could certainly be in a position to slow down and rest on his laurels. But looking back has never been of great interest to this tender warrior; "Go forward," is his motto, as he keeps shifting to a higher, well calibrated gear. In 2015 he became a National Endowment for the Arts Jazz Master and was awarded an honorary doctorate from Berklee College of Music.
His concerts and recordings are events of pristine beauty and elegance, full of intensely felt emotion and passion that touches deep inside the heart. This is not entertainment, but the powerful uncorrupted expression of beauty through music. When music vibrates, the soul vibrates and touches the spirit within. "Mr. Lloyd has come up with a strange and beautiful distillation of the American experience, part abandoned and wild, part immensely controlled and sophisticated." Peter Watrous, The New York Times
Performing at:
June 23, 2019
6:00pm
Liberty Ave. Stage 1
Band Members
Charles Lloyd – Tenor Saxophone and Flute
Marvin Sewell – Guitar
Reuben Rogers – Bass
Eric Harland – Drums
---