FEATURED ARTIST


Noel Quintana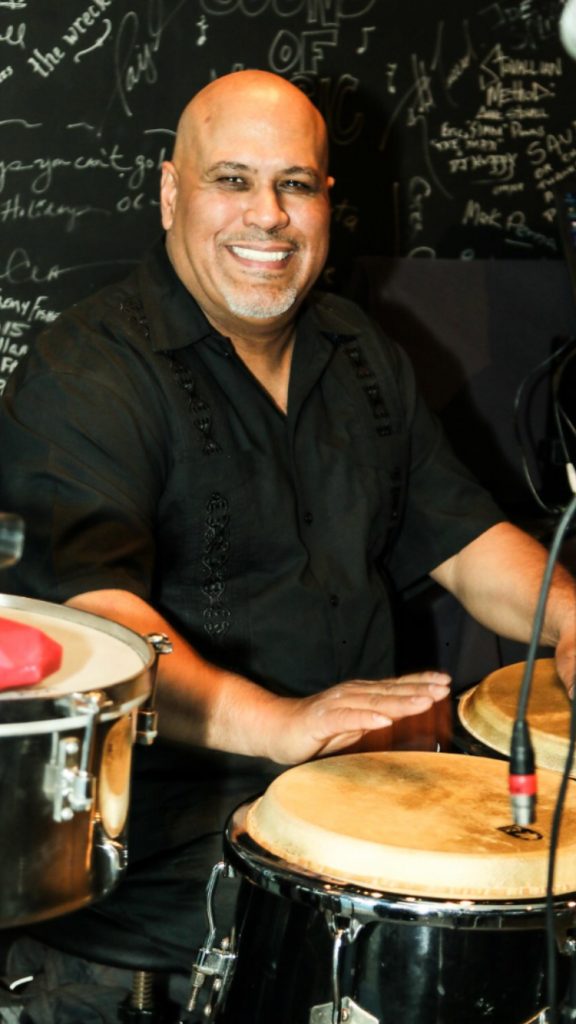 Noël Quintana, also known as "Mr. Conga" has been involved with Latin music for over 30 years as a percussionist, researcher, collector of Latin music photos and memorabilia and is the bandleader of Noel Quintana & The Latin Crew. In 2018, Mr. Quintana released his first album and has been receiving global airplay. Currently Mr. Quintana is the host of a Pittsburgh-based radio show called "Salsa Con Ritmo" that specializes in Salsa, Afro-Cuban music and Latin Jazz.
His uncle owned a record store, and he began to build his own record collection early on. After being introduced to Luis Romero, a renowned percussionist and recording artist, Noel began to take private lessons on the conga drums. He attended the Harbor Conservatory for the Performing Arts in the Museo del Barrio where he studied Afro-Cuban and Afro-Puerto Rican styles with "Little" Ray Romero, Johnny Almendra, Luis "Timbalito" Romero, and Pedro Fernandez.
In New York, he began to perform professionally with the band Sabor Boricua and a few Colombian salsa bands that favored Cuban and Puerto Rican percussionists. Noel has also performed with Tito Puente, Johnny Almendra y Los Jóvenes del Barrio, Luis Romero y Mazacote, Richie Ray, Pedro Jesús, Anthony Cruz, Andy Montañez and Tommy Olivencia.
In 1991, Noel Quintana moved to Cleveland, OH, where he performed and recorded with the band Impacto Nuevo. He also participated in the late pianist Roberto Ocasio's Latin Jazz Project. Noel was also a member of the Cleveland Salsa All Stars, and he performed with other salsa and Latin music bands in the Ohio area. In 1997, he was a host of the radio show "Ritmo Latino" on WDLW 1380 AM for three years. Noel taught percussion and Afro-Caribbean rhythms with the Northeast Ohio Jazz Society's Banda Hispana Cultural and the Julia De Burgos Community Center for 16 years.
Noel currently teaches private lessons in Latin percussion and offers assembly performance programs for schools and cultural centers. The Latin Crew performs regularly throughout the Pittsburgh and surrounding areas. For latest shows and bookings, connect with Noel Quintana via phone or his Facebook page.
Performing at:
June 23, 2019
with Special Guest Ray Vega
1:15pm
Smithfield Stage
Band Members
Irene Monteverde – Piano
Hector Luis Rivera – Bass
David Fernandez – Bongoes and chorus
Hugo Cruz – Timbales
Daniel Spearman – Trumpets Kyle Simpson – Trumpets
David Kochis- Baritone Saxaphone
Michael Spearman – Trombone
Juan "Tiny" Colin – Vocal and Trumpet
Marilyn Rodriguez – Vocals
Noel Quintana – Leader and Congas
---