FEATURED ARTIST


Firm Roots Klook! The Kenny Clarke Legacy Project
Klook! The Kenny Clarke Legacy Project endeavors to celebrate the life and music of the Great Pittsburgh born multi-percussionist Kenny Clarke. By drawing from Clarke's vast history as both a drummer and composer, this project covers music from the BeBop era of the 1940's through to the more experimental music of the 1970's and early 80's. Clarke was an important activist in the struggle to end American apartheid and this project addresses this issue through the music he both composed and performed over his extensive career of over four decades.
Bandleader, Thomas Wendt has been playing the drums professionally since the age of 14. A graduate of The Pittsburgh High School for the Creative and Performing Arts, he has studied with master drummers Roger Humphries, Joe Harris, and Kenny Washington. Thomas maintains a busy freelancing schedule with Pittsburgh's top jazz artists such as Dwayne Dolphin, Joe Negri, Sean Jones, Dave Budway, Kenia, the Latin jazz group, Salsamba, and the newly re-formed Pittsburgh Jazz Orchestra. He has also played with many visiting international artists like David "Fathead" Newman, Donald Byrd, James Moody, Jimmy Heath, Clark Terry, Benny Golson, Freddy Cole, Monty Alexander, Bill Watrous, Paquito D'Rivera, Curtis Lundy, Wycliffe Gordon, and Javon Jackson. In 2008, Thomas played on the Emmy Award winning soundtrack for the PBS documentary, "Fly Boys" and in 2010 he recorded an album featuring trombonists Jay Ashby and Steve Davis. Thomas has also recorded albums with Gene Ludwig, Sandy Staley, Salsamba, David and Maureen Budway, and Joe Negri. Recently, he appeared at The 2012 Litchfield Jazz Festival with jazz legend Hubert Laws and in 2013 performed with pianist Alan Broadbent for the Nyack NY Library Concert Series. Since 1998 he has been on the faculty at the Afro-American Music Institute in Homewood.
Dr. James Moore, Associate Professor of Music, is the Director of Jazz Ensembles and instructor of trumpet at West Virginia Wesleyan College. Since 2011 he has served as the chairperson of the Department of Music at WV Wesleyan and has worked to build one of the most vibrant collegiate jazz programs in the region. Dr. Moore is an active member of the Pittsburgh jazz community where he is a member of the Pittsburgh Jazz Orchestra and has been a member of RH Factor—the Roger Humphries quintet. In addition to his work in Pittsburgh he performs regularly with the Norman David Eleventet in Philadelphia as well as many other collaborative ventures in that city. He has performed with the Smithsonian Jazz Masterworks Orchestra, the Bob Mintzer Big Band, Toshiko Akiyoshi, Ahmad Jamal, Sheryl Bailey, Tim Warfield, and the Lars Halle Jazz Orchestra. Moore appeared on Bob Mintzer's GRAMMY nominated album "For the Moment," released on the MCG Jazz label in 2012.
Dr. James Moore is also an active clinician, having worked with many high school honors jazz ensembles throughout Pennsylvania and Western Maryland. He has presented master classes at dozens of high schools and colleges in the region. He is also a member of the Artist Faculty of the National Trumpet Competition, as well as serving on the research review board of the International Trumpet Guild. His articles on jazz trumpet pedagogy have been published by the Australian and International Trumpet Guilds.
Apollo, Pennsylvania native Jeff Bush began studying music at the age of four on an unlikely instrument, the banjo. He followed with the piano and then discovered the trombone which has become a lifelong pursuit. Working as a professional musician while still a college student, Bush performed with The Cleveland Jazz Orchestra and toured with The Glenn Miller Orchestra. In his final year of undergraduate study, Bush became linked to one of his musical heroes, receiving the Frank Rosolino Memorial Scholarship. The award featured Bush at the 1999 International Trombone Festival and allowed him to study in Berlin, Germany with acclaimed trombonist, Jiggs Whigham.
In 2000, Jeff moved to New York City to begin a Master's degree at The Manhattan School of Music and to pursue a freelance career which continues to flourish today. Bush is honored to have performed with a number of great jazz artists including The Toshiko Akiyoshi/Lew Tabakin Big Band, The Count Basie Orchestra, The Vanguard Jazz Orchestra, Cyrus Chestnut, Kevin Mahogany, Marlena Shaw, Benny Golson, Jon Hendricks, Ahmad Jamal, Vanessa Rubin, Jimmy Heath and Anthony Braxton. Jeff has also been a featured soloist and substitute conductor for The Tommy Dorsey Orchestra.
Bush joined the big band of superstar Harry Connick Jr in February 2007 and stayed with the group through early 2009. During his tenure as lead trombonist, Jeff toured the world, made a number of network television appearances, special performances for the 2008 NBA All-Star Game and for Pope Benedict XVI and appeared on two releases for Columbia Records.
In other musical genres, Jeff has worked with The Temptations, The Four Tops, Frankie Valli and The Four Seasons, Paul Anka, Manhattan Transfer, Bobby Caldwell, Freda Payne, HBO's The Sopranos and The New York City Ballet. He has also performed on tenor trombone, bass trombone and tuba in the pit orchestras of the New York City Broadway shows Wonderful Town, Dirty Rotten Scoundrels, The Pajama Game, South Pacific and How the Grinch Stole Christmas. As a sideman, Bush has appeared on over thirty albums, including Grapefruit Moon with Southside Johnny and Tom Waits. He has performed on The PBS Television special, My Sinatra, and can even be heard on "jingles" for the TV show Jeopardy and Rice-A-Roni. Jeff made his debut as leader in 2010 on "Ain't So Bad To Swing" for Beezwax Records and is currently working on his second studio project comprised of original material. Bush can also be found as a regular member of The Pittsburgh Jazz Orchestra with Sean Jones.
Jeff is very proud of his developments as an educator. He continues to work as a clinician with college and high school students and was recently featured as a soloist at the Midwest Clinic and the PMEA convention. Additionally, he serves as an adjunct instructor of trombone and low brass at West Virginia Wesleyan College and is an adjunct instructor of jazz studies at Duquesne University.
With over thirty years of professional experience Eric DeFade is in demand as a performing artist and studio musician. Few musicians enjoy a schedule as demanding or varied. For the past ten years Eric has been a featured performer for the 'My Music' series on PBS. This program is internationally broadcast and features such artists as Patti Labelle, Isaac Hayes, the Temptations, Robert Goulet, Wild Cherry, the Platters ,and the Commodores to name a few. Eric has played with music greats Rosemary Clooney, Josh Groban, the New York voices, Gary Burton, John Scofield, Dave Liebman, Ahmad Jamal, Benny Golson and has toured internationally with The Artie Shaw Band and the Tommy Dorsey Orchestra. Eric has appeared on the Oprah Winfrey show accompanying legendary jazz vocalist Nancy Wilson.
A Mcdonald's all-American and multi-instrumentalist, Eric received a scholarship to study jazz performance at the University of North Texas and was the lead tenor saxophonist with the Dallas jazz orchestra. After working extensively in the Dallas club and studio scene, Eric relocated to Tokyo to lead his own jazz combo. Upon returning to the U.S. Eric began a busy freelance schedule including performances with the Pittsburgh Ballet theater, the Civic Light opera, The Pittsburgh Symphony Pops, the Manchester Craftsman's Guild all-star big band, the Pittsburgh Jazz Orchestra, Billy Price, and Benny Benack. Most recently Eric has been touring North America with international singing sensation Patrizio Buanne. With dozens of recordings to his credit, most notably with Nancy Wilson, and the New York Voices, Eric has played on two Grammy Award winning projects and won an Emmy for his work on the music special, "Live From Studio A." In the fall of 2012 Eric was inducted into the Pittsburgh Jazz Hall of Fame. In addition to a year round performance schedule, Eric is an artist\lecturer in saxophone and director of jazz ensembles at Carnegie Mellon University, visiting artist at the Lincoln Park Performing Arts Charter School, adjunct professor of saxophone at Seton Hill university, director of jazz studies at CMU pre college and clinician for the Pennsylvania Arts on Tour program.
Alton Merrell is a pianist, Hammond B-3 organist, composer, and music educator whose life is dedicated to glorifying God through music performance and cultivating music talent in others. Currently, Alton is an Assistant Professor of Jazz Piano and Jazz Studies at Youngstown State University. From the same institution, he earned a Bachelor of Music Degree in Music Education and Classical Piano Performance graduating Cum Laude, and a Master of Music Degree in jazz piano performance. From the University of Pittsburgh, Alton earned a Ph.D. in Jazz Studies with a research focus on jazz piano performance and pedagogy.
Dr. Merrell also leads his own group "Dr. Alton Merrell & Impact" an instrumental and vocal ensemble incorporating diverse musical styles in their repertoire. The mission of the group is to create music that will minister love, hope, healing, joy, deliverance and peace to people around the world. Alton's latest award-winning CD "You're the Reason" embodies this vision.
Dr. Merrell has ministered with gospel / Christian artists Kim Burrell, Martha Munizzi, Donnie McClurkin, Alvin Slaughter, Maurette Brown Clark, Dorothy Norwood, Israel Houghton, LaShunn Pace, Morris Chapman, Parkes Stewart, and the late Rev. Timothy Wright. He has also been seen several times on the nationally televised Bobby Jones Gospel Show. Dr. Merrell has also performed with jazz artists: Benny Golson, Christian McBride, Jeff "Tain" Watts, Curtis Fuller, Jimmy Owens, Jimmy Heath, Slide Hampton, Rufus Reed, Sean Jones, and Roger Humphries. He is a current member of the Pittsburgh Jazz Orchestra and has performed with, the Cleveland Jazz Orchestra, Cleveland State Jazz Heritage Orchestra, Pittsburgh Concert Chorale, YSU All-Star Alumni Jazz Ensemble, Warren Philharmonic Orchestra, and the OMEA Intercollegiate All-Star Jazz Ensemble.
Dr. Merrell has received numerous honors including: Gospel Jazz Artist of the Year, American Gospel Music Award, Best New Gospel Jazz Artist & Producer, Capital Jazz Festival Competition Finalist (2008), YSU Jazz Quintet Member of the Cultural Exchange Group performing in Beijing, China (Summer 2002.) YSU Jazz Quintet Member of the Cultural Exchange Jazz Group performing in Shanghai, Nanjing, and Hangzhou, China (Summer 2004) where a number of Alton's compositions and arrangements were performed. Selected to perform in a master class with world renowned jazz pianist Danillo Perez at TRI-C Jazz Festival (2002), Who's Who Among America's High School and College Students; Member of the Alpha Kappa Mu Honor Society; Featured pianist in classical and jazz genres at the Dana School of Music's Showcase Concert (1999), Tri-C Jazz Festival Special Performance Citation from city of Warren's probate judge Thomas Swift and the International Association of Jazz Educators, Recipient of Outstanding Performance award with Y.S.U. Jazz Ensemble I in Big Band Category of the 2000 Down Beat magazine student music awards, Featured soloist at the Warren City Schools General Convocation(1999), Recipient of Founces M. Luley Music Scholarship. Above all, Alton's life is dedicated to glorifying God through music performance, composition and cultivating music talent in others.
After brief stints on violin and piano, and several years of playing trumpet in the school band, Paul Thomas started playing bass at age 13. "It wasn't long before I was swept away by the sounds of jazz, R&B, and fusion music, discovering my musical influences along the way: Herbie Hancock, Marcus Miller, Ron Carter, Miles Davis, Anthony Jackson, John Coltrane, and many, many others." After graduating from the Pittsburgh High School for the Creative and Performing Arts (CAPA), Paul attended Duquesne University for two years as a Double Bass Performance Major.
As a professional jazz bassist for the last ten years or so, Paul has been fortunate enough to have shared the stage with some of music's greatest artists including: Milt Jackson, George Benson, Jon Faddis, Rick Margitza, James Moody, Mark Murphy, Curtis Fuller, Rebecca Parris, Gary Burton, Richie Cole, Kenia, Warren Vache, Mark Whitfield, Joe Harris, Gary Bartz, Slide Hampton, James Williams, Grover Washington Jr, Kei Akagi, Roger Humphries, Kenny Drew Jr, Clark Terry, Kenny Blake, Joe McBride, Johnny Griffin, Mark Elf, Grady Tate, Jimmy Ponder, Dave Stryker, Ronnie Cuber, Joe Negri, Steve Slagle, Billy Price, Dianne Schuur, Marlena Shaw, Monty Alexander, David "Fathead" Newman, and many others.
Thomas has also had the privilege of touring the world with trumpeter Maynard Ferguson as musical director ('97-'99), as well as playing in the late, great saxophonist Stanley Turrentine's last touring group ('99-'00).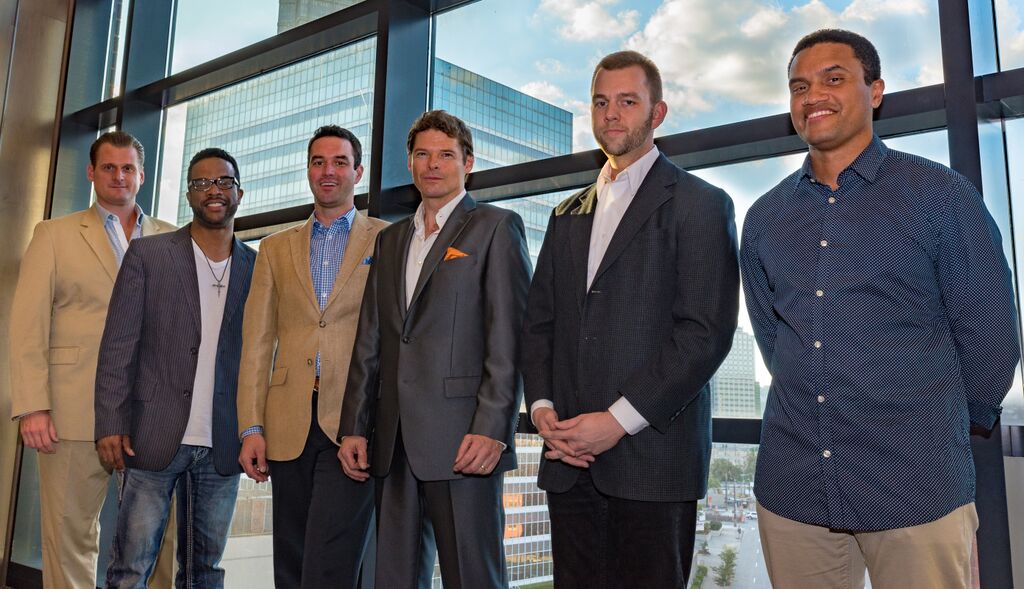 ---