FEATURED ARTIST


Aymée Nuviola and Gonzalo Rubalcaba
Gonzalo Rubalcaba
Pianist and composer Gonzalo Rubalcaba was already a young phenom with a budding career in his native Cuba when he was discovered by Dizzy Gillespie in 1985. Since, Piano & Keyboard Magazine selected him in 1999 as one of the great pianists of the 20th century, alongside figures such as Glenn Gould, Martha Argerich and Bill Evans; won two Grammys and two Latin Grammys, and established himself as a creative force in the jazz world.
He was born on May 27, 1963 in a musical family in Havana. His father, pianist, composer and bandleader Guillermo Rubalcaba, had also played in the orchestra of Enrique Jorrín, the creator of cha-cha-cha; his grandfather Jacobo Rubalcaba, was the composer of classic danzones, and his two brothers are also musicians. Gonzalo, a child prodigy who by the age of 6 was playing drums in his father's orchestra, started his formal training two years later, with piano as his main instrument to, as he once recalled, "just to please my mother." He graduated from the Institute of Fine Arts in Havana with a degree in composition and by his mid–teens he was working as both, drummer and pianist, in the hotels, concert halls and jazz clubs of Havana. Following graduation, he stepped right into the life of the popular musician, touring Cuba, Europe, Africa and Asia with the fabled Orquesta Aragón and also as a sideman in jazz groups and, beginning in 1984, leading his own Afro-Cuban jazz rock fusion band, Grupo Proyecto.
The encounters with Gillespie and, in 1986, with Charlie Haden and then Blue Note Records president, Bruce Lundvall, set the stage to finally showcase Rubalcaba ́s talent before jazz audiences in the United States. These years are documented in a series of recordings in Havana and Frankfurt, Germany, including three superb recordings with his Cuban Quartet on the German label Messidor : Mi Gran Pasión (1987), Live in Havana (1989) and Giraldilla (1990). Rubalcaba moved to the Dominican Republic in 1991 and settled in Miami in 1996.
His international recording career, which includes titles such as Discovery – Live at Montreux, Images– Live at Mt. Fuji, The Blessing, Suite 4 y 20, Rapsodia, Diz and Imagine – Gonzalo Rubalcaba in the USA, has garnered him 16 nominations including both Grammys and Latin Grammys. He won Grammys for Nocturne (2001) and Land of the Sun (2004), two collections of Latin ballads and boleros recorded with bassist Charlie Haden; and Latin Grammys for Solo(2006) and Supernova (2002).
In 2010, Rubalcaba and businessman Gary Galimidi, founded 5Passion Records and since, the label has not only released Rubalcaba's latest recordings such as Fe (2011), XXI Century (2012), Live Faith (2014), the Latin Grammy nominated Suite Caminos (2015), and Charlie (2016) but also albums by artists such as Yosvany Terry, John Daversa and Ignacio Berroa, Jose Armando Gola, Will Vinson, Seamus Blake and Volcan.
Reflecting his interest in music education, Rubalcaba joined the faculty of the University of Miami's Frost School of Music in 2015.
Aymée Nuviola
Once upon a time, the music fit perfectly into well-defined sections in record stores. Genres such as rock, pop, jazz, salsa, tango and classics had their own artists, audiences and places. Cuban music, however, was always the exception to the rule. For generations, from Ernesto Lecuona to Israel López Cachao and beyond, the best Cuban musicians have been able to easily adapt between styles.
From the infectious rhythms of Mambo, Son, Guaracha and Charanga to the heart of the genres such as Bolero and Fílin and the fierce Timba where Aymée at a very young age was one of its founders, every great Cuban star from Beny Moré to Celia Cruz is proud of this innate Cuban ability to create quality across many genres.
Aymée Nuviola, like Cuba itself, embodies that magical mix. born in a family of musicians, some of her earliest memories are on the piano, working through melodies between lessons. Later, when he receives his classical training at the musical academy in Cuba, he recalls his fascination with all kinds of music, from Debussy to Bossa Nova.
Aymée's music is an island without borders, open to the world, kind, optimistic, intelligent and willing to share its most personal and intimate truths with the world.
Winner of a Latin Grammy in 2018 with her album "As ring at the finger" as the best tropical fusion album, nominated for Cubadisco 2018 in the voices category of dance music with the same album, in 2019 she was again nominated for Latin Grammy with its production "A Journey through Cuban Music" in the category best traditional fusion album, Grammy Latino 2014 and Grammy 2015 with the album "First Class to Havana" as best Salsa album and best Tropical album, shee has also collaborated in multiple Grammy winning albums, the last one was "I Don't Want to Cry" from Septeto Santiaguero in 2016.
It has also been running for three consecutive years, 2014, 2015, 2016 being nominated for the prestigious Cubadisco contest, as best singer-songwriter and best popular music album with the productions "En la intimidad" "First Class to Havana" and "The Return to Havana" this last produced by the teacher Sergio George.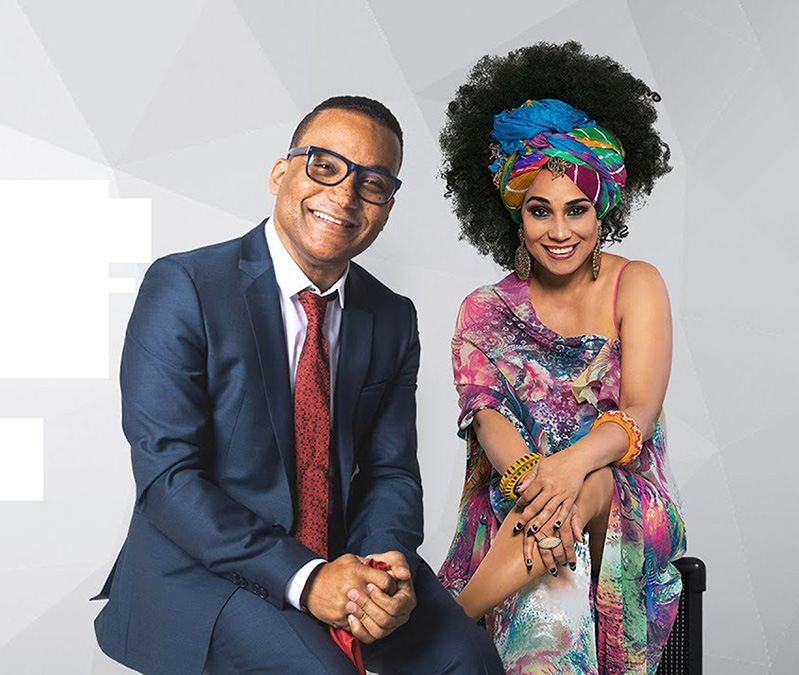 ---