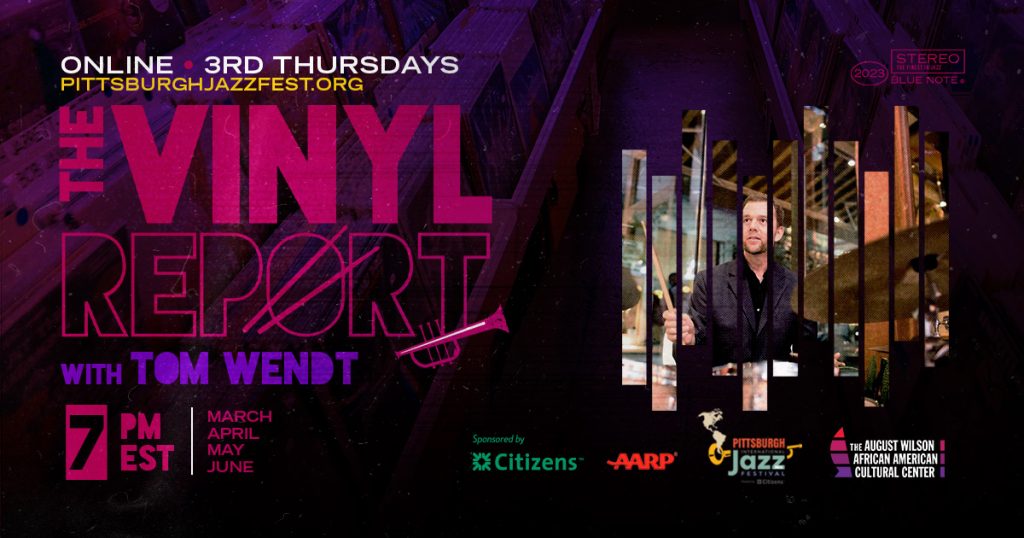 The third season of The Vinyl Report will premiere this month, featuring an 8-part series that offers viewers an exclusive look into Jazz albums with a strong connection to Pittsburgh. Each episode will showcase the work of some of Pittsburgh's legendary Jazz innovators from various generations and styles. The series will be available every third Thursday throughout the Spring on both the AWAACC YouTube channel and pittsburghjazzfest.org.
Episode 1: January 20, 2022
Charlie Parker – Bird with Strings (1950, Mercury)

For the first episode, we spend some time with two true Greats: Charlie Parker and Thaddeus Mosely. In addition to being one of the world's great visual artists, Mr. Mosely is also a lifelong Jazz fan. We explore the classic Charlie Parker album, Bird with Strings. Mr. Mosely saw this band live right here in Pittsburgh at a club called Johnny Brown's and gives his insightful recollections about the music. This is an episode you don't want to miss.
Episode 2: February 17, 2022
Archie Shepp – Montreux One (1975, Arista/Freedom)

The second new episode of The Vinyl Report focuses on one of Pittsburgh's true unsung Jazz Masters, drummer Beaver Harris. We are joined by Beaver's daughter, dancer and artist Verna Vaughn, to listen to Archie Shepp's 1975 live album, Montreux One. Shepp was a long time collaborator of Beaver Harris' and this album features Shepp's working group at the time. Verna reflects on their relationship, as well her memories of her father and his career.
Episode 3: March 17, 2022
Jimmy Ponder – JUMP! (1988, Muse)

The Vinyl Report's third new episode features Pittsburgh Jazz guitar Master Jimmy Ponder's 1988 recording, JUMP!. For this episode, we welcome another Pittsburgh guitar Master, Mark Strickland, as our guest. Ponder is one of Jazz's most underappreciated Masters and Mark shares some of his memories of Jimmy and how their special friendship has informed his music, as well as how he approaches life.
Episode 4: April 21, 20222
James Brown – Soul on Top (1970, King)

For the fourth new episode of The Vinyl Report, we spend some time with The Godfather of Soul, James Brown. His 1969 big band collaboration with Jazz saxophonist and arranger Oliver Nelson, Soul on Top, is an album certainly worthy of more recognition. Pittsburgh bassist, Dwayne Dolphin, is our special guest and, as a member of James Brown's music director Fred Wesley's band, Dwayne offers his insights into why Funk and Jazz are one and the same.
Episode 5: June 16, 2022
Jeff Bush and The Two Sides of Slide Hampton (1961, Charlie Parker Records)

Pittsburgh Jazz Orchestra lead trombonist and Pgh native, Jeff Bush, has been a fan of the great Slide Hampton, since he was a kid. A native of Jeannette, PA, Slide is one of the most revered trombonists in Jazz, as well as one of the truly great composers and arrangers of the music. In this episode of The Vinyl Report, we spend some time with Jeff listening to Hampton's 1961 album, The Two Sides of Slide, as he shares his insights as a fellow trombonist and composer / arranger.
Episode 6: July 21, 2022
Dr. Harry Clark Remembers bassist John Heard

Dr. Harry Clark has been one of the most essential figures in Pittsburgh Jazz for many years. Originally a trumpeter, Dr. Clark went on to teach music before founding the Pittsburgh High School for the Creative and Performing Arts in 1979. Dr. Clark befriended legendary Pittsburgh bassist John Heard while the two were just beginning their musical journeys as still high school students. For this episode, we focus on a 1985 album by vibraphone master Bobby Hutcherson, Color Schemes, which finds Heard in great form doing what he did best: playing for the band. Dr. Clark shares his personal memories of John Heard as well as some of Heard's original artwork!
Episode 7: August 18, 2022
Dr. James T. Johnson Jr. Meets Kenny Clarke

Shortly after pianist Dr. James T. Johnson Jr. arrived in 1977 to pursue his doctorate in ethnomusicology at the University of Pittsburgh, he found himself living with a true Pittsburgh Jazz legend. Dr. J and his wife Pamela opened their Homewood home to Master drummer Kenny Clarke while he was taking Nathan Davis' place teaching at Pitt. For this episode of the Vinyl Report, Dr. J offers his unique insights into Kenny Clarke's life and music as we listen to Clarke's 1956 recording, Kenny Clarke Meets the Detroit Jazzmen.
Episode 8: September 15, 2022
Sean Jones and Donald Byrd

In this special edition of the Vinyl Report, we welcome special guest trumpeter, bandleader and educator Sean Jones to the show. We will be profiling four different albums that Master Donald Byrd recorded in the 1970s. These albums include Ethiopian Knights, Stepping Into Tomorrow, Places and Spaces and Donald Byrd and 125th Street, NYC. We'll listen to one selection from each of these classic albums and enjoy some of Sean's important insight into the great Donald Byrd and his career. This episode also serves as a preview of the special Donald Byrd project Sean will be presenting at this year's Pittsburgh International Jazz Festival presented by Citizens Bank.
Episode 9: March 16, 2023
Carmen McRae Sings Lover Man and Other Billie Holiday Classics (1961, Columbia Records)

In the summer of 1961, singer Carmen McRae made what would become an essential Jazz vocal album for Columbia Records in the form of a tribute album to the then recently deceased Billie Holiday. McRae used her working band of pianist Norman Simmons (who also contributed all of the arrangements), bassist Bob Cranshaw and drummer Walter Perkins. Guitarist Mundell Lowe was added along with cornetist Nat Adderley and saxophonist Eddie 'Lockjaw' Davis. The resulting record helped solidify McRae's place as one of the music's most important artists. Vocalist Vanisha Gould joins us as a special guest for this episode offering her valuable and unique insights into this most important American artist.